Continuous Filament Microfiber
– Smooth Finish with Liquid Emulsion –

EXCELLENT PAINT EXCHANGE | NO DRIP | FLAT THIN-LAYER COVERAGE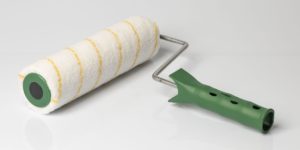 SEASONAL PROMOTION. Discontinued product with special offer, available while supplies last.

cod

ø

mm

str

box

MY1103

47

200
230
250

STMA7C
roller w/ø7 fix handle

40
material = microfiber
pile = short 11 mm
Short pile microfiber of endless-thread polyester. Light and softy warp for a greater paint-holding capability, the reticular viscous fibre prevents leakage. The open-top resilient yarn enables an easy paint drop and coating, for gloss and semi-gloss flat finish.
Intended use. First layer of paint with transparent and pigmented primer, fine finishes with water-based enamels and latex paints, thin-layer protective coating on wood and laminate, ceiling job.
PAINTS

LATEX
PRIMER
IMPREGNATING
SYNTHETIC LACQUER
GLOSSY ENAMEL
SATIN ENAMEL

SURFACES

INTERNAL WALL
PLASTERBOARD
CEMENT PLASTER
PLASTERWORK
STUCCO
CEILING